Explore 'zoomable' maps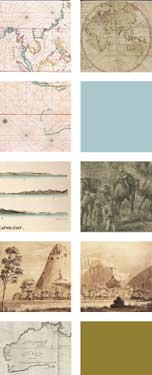 The Library is using a range of new technologies to enhance access to our collection items.
These 'zoomable' maps enable us to deliver very large scale maps in a user-friendly interface.
Instructions

Click on the 'View a 'zoomable' version' link in the SA Memory object display. The zoomable map will load in a new window.  Some of these files are large, and may take a few seconds to load.


Use the toolbar at the bottom of the map to navigate: 

 : Zoom In 

 : Zoom Out 

 : Zoom Slider - drag left and right to increase and decrease zoom 

 :  Pan Left 

 :  Pan Up 

 :  Pan Down 

 :  Pan Right 

 :  Reload Image 
'Zoomable' maps
Australia circumnavigated
Matthew Flinders' general chart of Terra Australis or Australia shows the route of his circumnavigation of the continent and the sections of coast which he had surveyed.
East side of St Vincent Gulf
William Light's chart of the eastern side of St. Vincent Gulf from Rapid Bay north to the Port River with descriptions of the topography.
Eyre's track in the years 1839…
The map shows the extent of the horseshoe of salt lakes which Eyre believed he saw as he travelled north of Spencer Gulf and the Flinders Ranges.
Flinders' map of South Australia
The chart depicts the South Australian coastline from Encounter Bay to the Head of the Australian Bight. Matthew Flinders charted this 'unknown' coast between January and early April 1802.
Flinders' names restored
The South Australian section of the continent's coast was the last significant piece of the discovery of Australia's coastline and essentially completed placing Australia on the map, almost 200 years after it began in 1606.
Kingston map
Map of Adelaide as surveyed by GS Kingston showing buildings in the city (South Adelaide) and North Adelaide, with a number of references to the nature of the premises or owners.
Lake Torrens country (Plan of the southern portion of province of SA)
This map shows the country west of Lake Torrens 19 years after Benjamin Babbage had been in the area. This area was intensively explored by Babbage, and before him Charles Swinden.
Lighthouses and ports
Map of Lake Eyre
J. W. Lewis had been sent north to explore and determine the extent of Lake Eyre. His map of the region north and east of Lake Eyre reveal the complexity of the tributary rivers, the Warburton and Cooper Creek.
Outer Harbor at Marino
Outer Harbor works
Port Adelaide surveyed
Special surveys in South Australia
This map shows South Australia from Latitude 33 to 35 degrees 40 minutes South and Longitude 138 to 141 degrees only, that is St Vincent Gulf to the eastern border. It was compiled by John Arrowsmith from documents in the Survey Office, Adelaide.
Steam shipping routes
This map of the world shows the proposed steam shipping routes as they were expected to be in 1849.